INSTRUCTION FOR ONLINE ORDER AND PAYMENT
Welcome to www.annhouse.com.vn
Ann House is proud of being the exclusive distributor of high-end brands in Vietnam.
You can order at our website. After submitting your order successfully, a confirmation email is sent to your provided email address. We will contact with you within 8 hours to re-confirm your order, provide our Bank Information for the payment. You will pay by Bank Transfer before shipping.
Or you can contact to our Facebook for online order and get the payment information (click it):
– Ann House
– Micro Scooters Vietnam
Note:
– The last decision is taken by Ann House, we can cancel the order in case we forecast problems that may be happen.
– Please refer to our Terms and Conditions below before placing order at our website.
---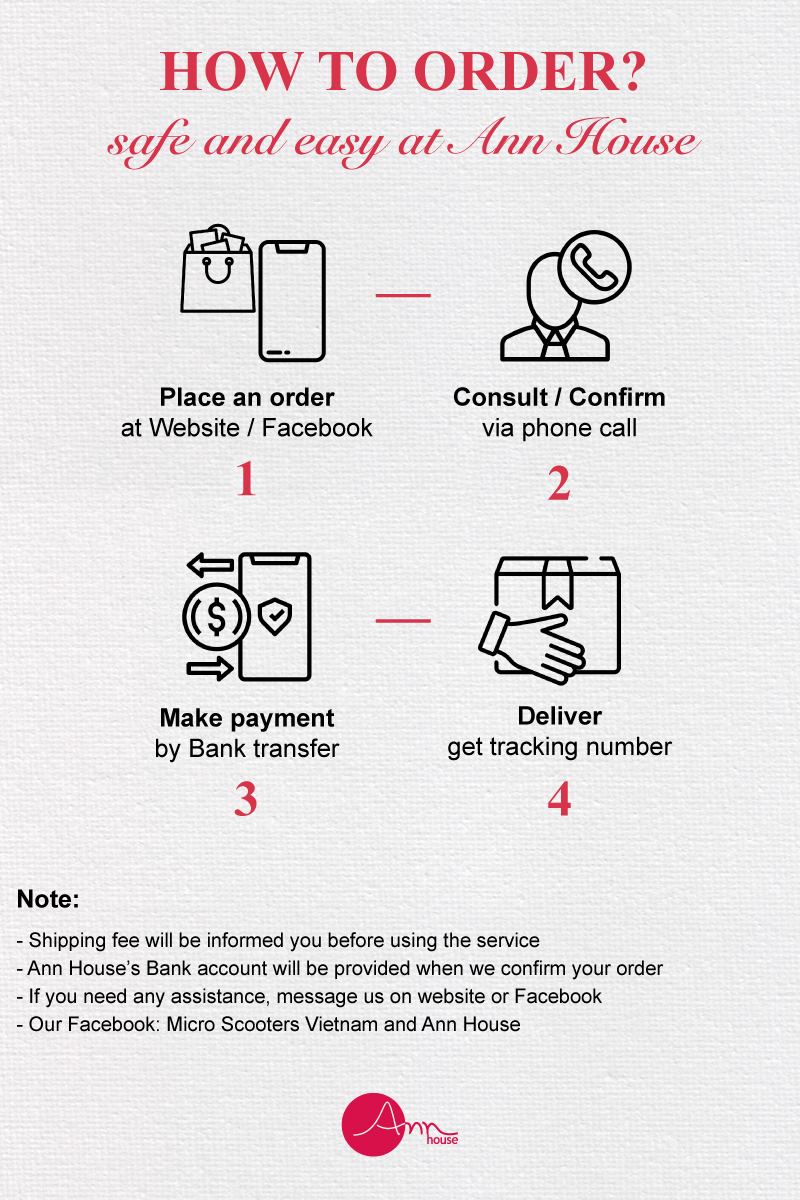 ---
TERMS AND CONDITIONS
Thank you for visiting our website – Ann House.
Please read these Terms and Conditions before making the purchase order of products from this website. Any orders of our products means that you have agreed to comply with these terms and conditions. The terms and conditions may be updated from time to time in accordance with the provision of the prevailing law.
1/ Who are we?
Ann House is proud of being the exclusive distributor of Micro, Paola Reina and KidSum Play in Vietnam.
Any purchase of products from this website will be fulfilled by Ann House.
Discover more about Ann House here.
2/ Use of our website
Your use of our website is governed by our Terms and Conditions. Please take time to read these, as they include important terms which apply to you.
3/ Our products
The images of the products on our website is for illustrative purposes only. Although we have made every effort to display the colors accurately, we cannot guarantee that your electronic device's display of the colors accurately reflects the colors of the products. Your products may vary slightly from those images.
Although we have made every effort to be as accurate as possible, all sizes, weight, dimensions and measurements of products indicated on our website, it may have a 2% tolerance.
All products shown on our website are subjected to availability. You will be informed by email as soon as possible if the products you have ordered are not available and we will suggest you the alternative or cancel your order.
4/ Price and payment
Even though we have tried our best to provide correct details and price shown on our website, mistakes may be possible. If we have found a mistake in the price of the products you have ordered, we will inform you of this matter as soon as possible and we will have you make a decision whether to confirm your purchase order at the correct price or to cancel such purchase order.
Such price has included value added tax (VAT) and is made in Vietnamese Dong.
The delivery expenses will be computed in addition to the price of the products. This expenses will be informed you when we confirm your order.
Bank Transfer is the only payment method for all order at our website.
5/ Incorrect purchase order
If you have found any mistake on the purchase order that you have sent, please contact us via Hotline, Facebook or info@microvietnam.com; We will try our best to undertake any relevant actions in accordance with your request.
6/ How we use your personal information
We only use your personal information in accordance with our Privacy policy. Please take time to read these, as they include terms which apply to you. Click here to read.
7/ Delivery and Conditions beyond our control (force majeure)
Please refer to our Shipping policy here.
We have made every effort to deliver your goods as estimated shipping time. However, in such cases as natural diseases, infected area,… may affect the delivery. It might take more time to deliver your goods or be unable to deliver it. We will inform and discuss with you for such cases. The final decision is taken by Ann House in a force majeure event.
8/ Warranty and Exchange
Please refer to our Warranty and Exchange policy here.
9/ Intellectual property right
All contents in or published in our website are the property of Ann House and are protected. You are able to keep, share and print provided only for personal use. You are not allowed to use such contents for any business or commercial purpose.
10/ Amendment
We reserve our right to make an amendment to these terms and conditions at any time. The amendment will be published on our website www.annhouse.com.vn.
When you have submitted the purchase order on our website, you have agreed that you have read and agreed to the terms and conditions in force on the date that you have submitted your order. Therefore you are required to review the latest terms and conditions every time when you submit a purchase order.
Thank you for choosing Ann House.
---