12 MONTHS TO 5 YEARS
3 VERSIONS, SEAT-ON-SCOOTERS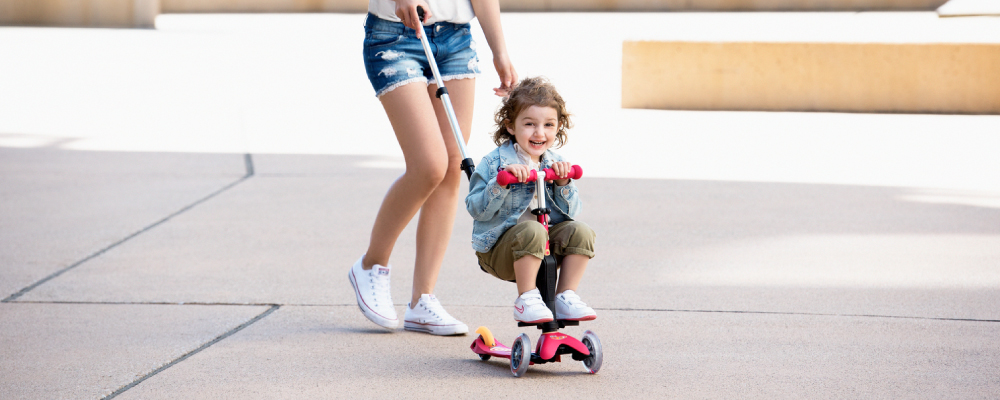 3.750.000

₫
Our Mini Micro 3in1 Push Along is a scooter with a trio of talents. Ride-on scooter with adjustable removable parent steering handle from 12 months. Independent sit on scooter with adjustable seat height for more confident toddlers. To iconic Mini Micro Deluxe with adjustable handlebar and extra grippy footplate from 2 years through to starting school. Always perfectly attuned to your child's size and physical development. Helping them build confidence along with crucial balance and coordination skills.
For:                           1 - 5 years Max.load:                  20kg (with seat), 35kg (without seat) Weight:                      1.9 - 2.2kg Handle-bar height:    48 - 67cm
Select options
3.950.000

₫
The Mini2go Deluxe is an innovative little scooter with storage space for the kids' belongings. The Mini2go makes your little one mobile from as early as 18 months' old and accompanies him up to the age of 5. Control takes place by means of weight transfer, thus promoting motor skills and balance in the children. The handlebar is height-adjustable and there is a push bar included in case you want to take over control. Additionally, there is a built-in light in the drawer which can be mounted on the t-bar and used as a headlight.
For:           18 months - 5 years
Max.load:  20kg (with seat); 35kg (without seat)
Weight:     1,9kg - 3,6kg
Height:      48cm - 67cm
Select options
1.800.000

₫
In a revolutionary way, the Micro Air Hopper combines the well-known hopper ball concept with the fun of riding on wheels. The ergonomically designed children's toy consists of two components - an inflatable main body, and a chassis with 360-degree PU wheels that are exceptionally quiet and leave no marks. The ball can be filled with more or less air, depending on size of the child, so that your kid is always safe and comfortable. With the Micro Air Hopper, the toddlers are already mobile and active before their first attempts at walking. Furthermore, beyond the giggles and fun, coordination and balance are skillfully promoted.
Specifications Age range: 18 months - 5 years Max load: 25kg Weight: 3,1kg Seat height: 31cm
After-sale services: 2 years warranty for manufacturer defects Technical consulting & assistance Provide original spare parts in case you need
Select options
WHICH ONE IS SUITABLE FOR YOUR KID?
Micro Mini 3in1 Deluxe Plus and Micro Mini2go Deluxe Plus have 3 versions, seat and push-bar included. They would bring to your kids interesting experiences while using.
You should pick the one that suits your kid well.
– Micro Mini 3in1 Deluxe Plus: 12 months to 5 years.
– Micro Mini2go Deluxe Plus: 18 months to 5 years.
The seat of Micro Mini 3in1 Deluxe Plus is smaller than the Mini2go one. Therefore 3in1 is suitable for kids aged 12 months and Mini2go is for 18 months.
Moreover, the seat of 3in1 can be adjusted in 2 positions (higher or lower) while Mini2go's seat has fixed height.
Why should you choose Micro for your adventure?
– Micro is exclusive brand from Switzerland.
– Scooters should be guaranteed for up to 2 years.
– Wide range of models in different colors.
– High quality, smooth riding, long-lasting use.
– For a better lifestyle. Especially with kids, our products help them to improve and learn many useful skills such as motion skills, balance skills and coordination skills.
And there are many good reviews that we have received from our customers, you definitely can find it by yourself when you choose Micro.
Ann House is proud of the exclusive distributor of Micro in Vietnam.